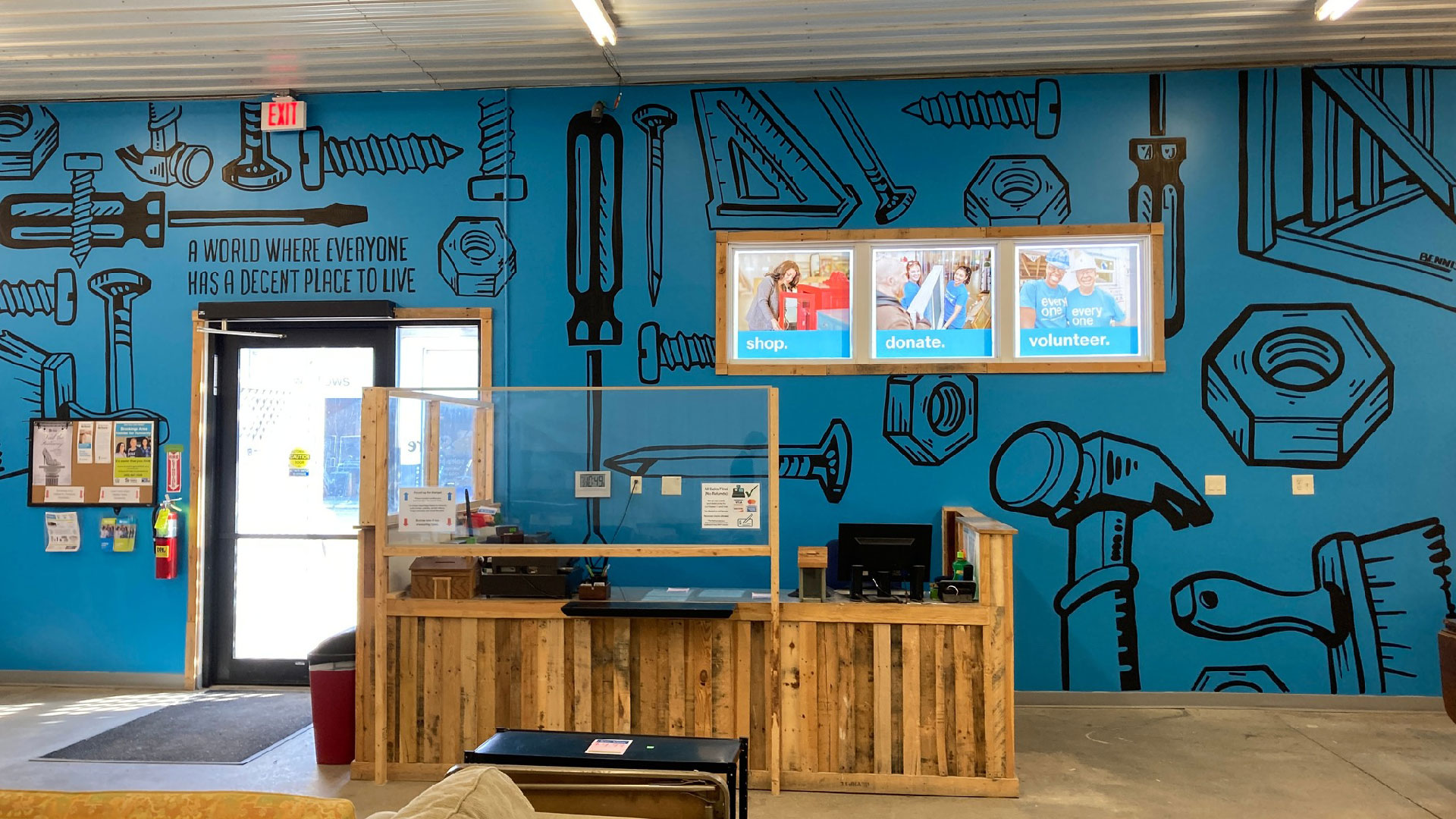 Brookings Habitat ReStore
Habitat ReStores are independently owned reuse stores operated by local Habitat for Humanity organizations that accept donations and sell home improvement items to the public at a fraction of the retail price.
Profits are used to help build strength, stability, self-reliance, and shelter in local communities and around the world — a good deal for you, your community, and the environment.
Drop off items at the store during store hours. If you can't bring in an item, call us or fill out the form below to request a donation pick-up.
Accepted items
Generally, we can take the following items that are clean, free of major damage, and in working order.
Furniture

Couches
Love seats
Recliners
Chairs
Dining/kitchen tables
Coffee tables
End tables
Dressers
Desks
Bookshelves
Cabinets/Vanities
File cabinets
Metal bedframes
Tools & Building Materials Hand tools
Hand tools
Power tools
Hardware - fasteners, (skrews & nails - no mixed containers)
Hardware - door, cabinet, window, etc.
Paint - new/full/unused
Lumber - no nails sticking out
Trim and Molding - no nails sticking out
Exterior/Interior doors
Garage doors
Laminate/Hardwood flooring
Vinyl flooring/linoleum
Carpet
Ceramic tiles
Full Bundles of Shingles
Household Goods
Large appliances
Small appliances
Small electronics
Electrical components (outlets, light switch covers, etc.)
China sets
Dish Sets
Seasonal items
Please only bring these items during their appropriate times of the year.
Plant pots
Weed and pest control
Plant stakes
Seed spreaders
Grills
Lawnmowers
Weed-whackers
Landscaping fabric and edging
Sports equipment
Gardening tools
Snow shovels
Snowblowers
Christmas trees & decorations
Fall and Winter decorations
Unaccepted Items
For various legal, logistical, and ethical reasons we cannot accept the following donations if they are not brand new in their original packaging:
Mattresses and box springs
Clothing
Entertainment centers
Children's beds, toys, cribs, car seats
Window blinds or curtains
Toilets
Opened cans of paint
Used fiberglass insulation
Single pane windows
Exercise equipment
Ladders and scaffolding
Gas-powered appliances, furnaces, water heaters, etc. (can be recycled)
Anything (lead) painted before 1978
(doors, windows, trim, furniture, etc)
Medical supplies
(wheelchairs, crutches, canes, hospital beds, etc)
Used safety equipment such as respirators, harnesses,
kneepads, ladders
Previously opened chemicals
(cleaning supplies, automotive, etc)
Standing pianos and organs
(electric keyboards are accepted if they are in working order)
Unframed glass or mirrors
Temporarily Unaccepted Items
We reserve the right not to accept certain donations based on high supply and low demand. This may change throughout the year.
Headboard/Footboards
Sinks
Lights and Lamps
Framed Art
Knick-knacks
Windows
Exceptions may apply. For instance, we can take almost anything, including items on the "Unaccepted Items" list, if they are brand new in the box. Call 605-697-5900  or email restore@brookingshabitat.org for more information.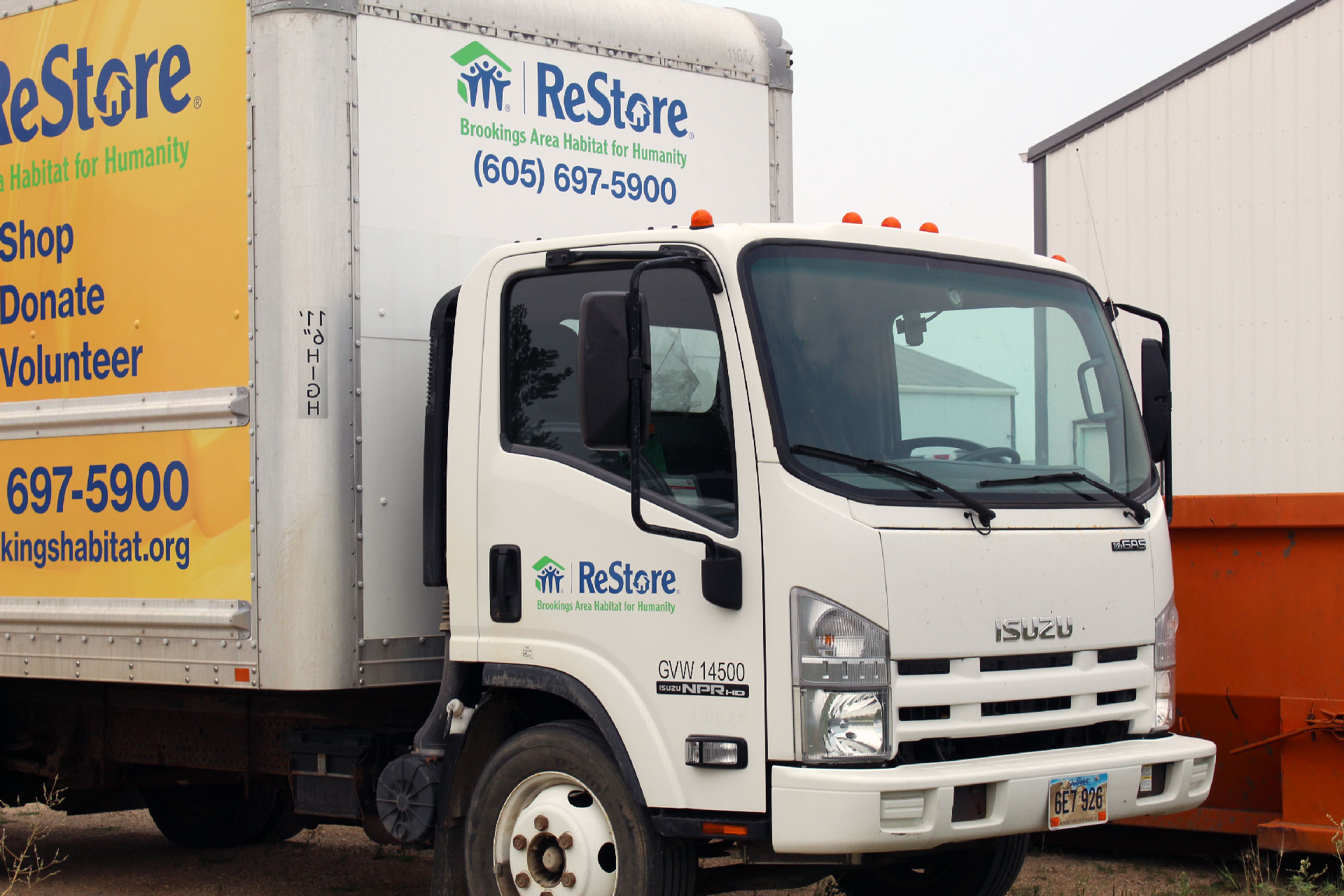 Request A Donation Pick Up!

You can always drop off items at the store during store hours. If you can't bring in an item, request a donation pick-up.